Molly thinks she is a person… Molly is my silly, sassy, stubborn dog!  She is a beagle-ish hound we rescued from a shelter 12 years ago.  I thought I would share a collection of micro stories to show who she is.
Molly is a silly dog.  She hides her favorite baby, Hedgie, in our brown couch.  Whenever I take it out and put it in her toy basket, she takes him out and buries him in the same corner of the couch every… single… time.  Sometimes she runs around the couch in circles.  I don't know why she does that but it is silly.
Molly likes to play the cookie game and no one else does.  This is how the game goes… Molly asks to go out.  We let her out.  Just when we get comfortable she comes in and stands in the kitchen until she gets a cookie.  We get comfortable again  She asks to go out. We let her out. We get comfortable.  She asks to come in and demands a cookie.  Repeat… Repeat… I have tried to skip right to the cookie… no deal… she still wants to go out.
Sometimes she goes out and HOWLS her head off!!!  It is so frustrating when she does this she doesn't come in when I call her… and call her… and call her…  When this happens I have to go out and drag her in and I don't give her cookie.  Then she paces around the kitchen wanting a cookie.  But, I refuse!  She asks to go out but I say no because she is naughty.  I can't just let her go out and howl because one of my neighbors called animal control because she is so loud! Ugh!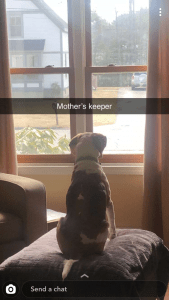 When I am around Molly I have to be careful not to say the word w-a-l-k.  If I say it she expects to go on one immediately.  If she has any idea I might be going for a walk she stares at me until we go.  Sometimes I don't tell her or she will howl at me and get in the way until we go out.  When I go for a run I sometimes I need to go without Molly because she can't go in a straight line because she follows ALL the smells.  When this is the case I have to sneak out.  I quietly go in my room and put on my running clothes under my PJs.  I hide my hat in my pocket and go into the mudroom like I am doing laundry.  Then I quietly slip out the door and slip of my PJ costume, put on my running shoes and head out.  Erin tells me Molly figures it out instantly.  I feel bad but I make it up to her with a good walk!
The best thing about Molly is she is always willing to curl up with me and watch a movie, read a book or take a nap.